ABOUT MIKE BARNICLE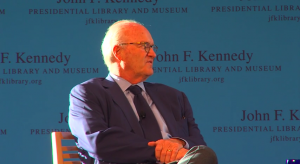 Veteran journalist Mike Barnicle has interviewed and profiled countless political and business leaders, union, government and military officials, athletes, celebrities and authors during his four-decade career as an award-winning print and broadcast journalist, social and political commentator. From President Barack Obama to all the 2016 presidential hopefuls, Barnicle brings his signature balance of tough-minded inquiry and empathy with the everyman to cut to the heart of pressing national and international issues that matter to the American public and impact this upcoming 2016 election. As a regular on MSNBC's Morning Joe and a staff columnist for The Daily Beast, Barnicle has lent his incisive analytical style to stories and discussion ranging from the economy and jobs to ISIS, foreign policy, the Catholic Church, civil rights, gun control, education, poverty, health, veterans' affairs and much more.
Over the years, Barnicle has also written for The Atlantic, ESPN The Magazine, Esquire, Grantland, The Huffington Post and Time Magazine. He has appeared on CBS's 60 Minutes, Bloomberg Television, MSNBC's Hardball with Chris Matthews and PBS's NewsHour. As one of the longest-running contributors to Chronicle, Boston WCVB-TV's nightly news show, Barnicle presented award-wining documentaries that included an examination of gun proliferation in the United States and an exposé of the Massachusetts judicial system. Barnicle's achievements and capacity for shifting from local to national to global politics have earned accolades from the Associated Press, DuPont Columbia, the National Headliners Awards and United Press International.
From 1999 to 2006, Barnicle was a regular on WTKK-FM, first as a guest on the syndicated "Imus in the Morning" and then as the host of his own daily radio show which earned him the epithet The Voice of New England. Prior to that, he spent 25 years as a columnist at The Boston Globe, rising to become one of the city's most prominent and prolific journalists. At the Globe, Barnicle honed his ability to immerse his readers in the lives of others. He penned memorable articles about Boston mayors, crime bosses and religious leaders and regularly attacked bureaucratic failures. He also mixed in personal stories and profiles of the city's police officers, firefighters, schoolteachers and veterans along with countless victims of crimes and circumstances. In the mid-1970s, Barnicle helped earn the paper a Pulitzer Prize for its coverage of the convoluted political and social turmoil that followed a citywide school desegregation plan.
For four decades, Mike Barnicle has cut through the noise and spin of mainstream media to get at the heart of stories that matter to the American public. He has covered epic political legacies, devastating sports losses and blue-collar redemption tales with equal parts care and close examination. A Massachusetts native, Barnicle graduated from Boston University and began his career as a speechwriter and political aid, working for former California Senator John Tunney, one-time Vice Presidential candidate Edmund Muskie and the late Robert F. Kennedy. He resides in suburban Boston with this wife and children, and remains a devoted Red Sox fan.